TEACHERS (1-3 year olds)
---
Shaketia
My name is Shaketia Simpson.  I was born and raised in Asheville North Carolina. I attended and graduated from A.C. Reynolds High School and  continued my education in Early Childhood at A-B Technical Community College. I have 3 children, 2 boys and 1 girl, who attend Haw Creek Elementary School. My mom had me volunteer at the age of 13 at the Boys and Girls  club. From that point on I worked two jobs serving as a facility aide at Aston Park Health Care Center and from there I went to work with Asheville parks and rec. I have over 21 credit hours in childcare and have worked with kids for over 10 years. My hobbies are spending time with my kids, art, fashion and cooking.
Melissa
Hello, my name is Melissa Gauthier.  I have been working in the childcare field since 2001.  I graduated with my Associate Degree in Early Childhood Education this same year.  I began my career working with children aged 3-5.  After working with this age group for several years, I decided to try working with infants and children under age 2.  I quickly realized this was the age I love working with the most!  I enjoy being a part of their early learning when they are developing so much in such a short time.  I believe through exploration and hands on experiences children learn the best and that is how the children in my classroom learn.
I am originally from New Hampshire and moved to North Carolina in 2013 when my daughter was 2 so we could be closer to my husband's family.  In my spare time, I enjoy cooking and baking, spending time with my husband and daughter, and traveling as a family.
Kimberly
Hi, my name is Kimberly Cosenza. I graduated from Western Carolina University in 2017 with a Bachelor's Degree in Social Work. I worked as a foster care social worker in the Charlotte area for 2.5 years and quickly realized two things: 1) I was crazy to have ever left the mountains, and 2) I wanted a job that allows me to have a more positive and supportive relationship with children and families. I moved to Asheville in July 2020 and was lucky to receive the opportunity to work at Discovery. In my free time I enjoy roller skating, painting, watching movies, hiking, and spending time with my husband and two fur babies.
Petra
My name is Petra Tompkins.  I have been working here at Discovery since August 2015 teaching two year olds.  I was born in Czech Republic and finished a five year Business school in 1997.  I worked as a Secretary for Social Services in Czech for almost three years when I decided to pursue my dreams of studying English.  I left in 2001 for England where I spent almost two years learning English and also worked for the Sue Ryder Care Charity organization.  After my return from England, I decided to leave for America in 2003 as an Au-Pair and that's when my passion for children began . I obtained my Early Childhood Credentials in 2007 at AB Tech Community College and many other classes followed including Playground Safety Training, English Class, First Aid and CPR classes, etc.  I have a Lead Teacher Status in the state of NC  and have been working with children ages 0-5 since 2006.  I am married with two beautiful children, Dillon and Delilah.  My passions are children, travel ,reading, hiking, singing and music.   This country is my new home now – I became an American Citizen in 2011.
Lauren
Hello, my name is Lauren Carter. I have worked in Early Childhood Education since 2016, but have worked with children since 2010. I received my Bachelors Degree in Developmental Psychology in 2014 and I am currently pursuing my Masters Degree in Social Work. I have always had a passion for helping children grow and learn new things.
I moved to Asheville in May of 2015 from Vermont. I love Asheville and thought the mountains here reminded me of home. I love taking my dog on hikes, reading, and traveling!
Camree
Hello, my name is Camree and I have been working with children since 2016.  I started working with children in high school.  I enjoyed working and interacting with them and making fun art projects!  I joined the Discovery team in February of 2018.  My years of working at Discovery have been nothing but amazing!  I'm a floater, mostly in the toddler rooms and I love teaching  the 1-2 year olds!
Tuesday
Hello, my name is Tuesday Quesenberry. I have been working in child care since 2018. Starting at my internship in college working at Ovations School for the arts, there I taught expressive arts for one school year. I also worked at a karate dojo doing after school and summer camp!   I graduated with an Associates degree in Human Services as well as completing the youth development program.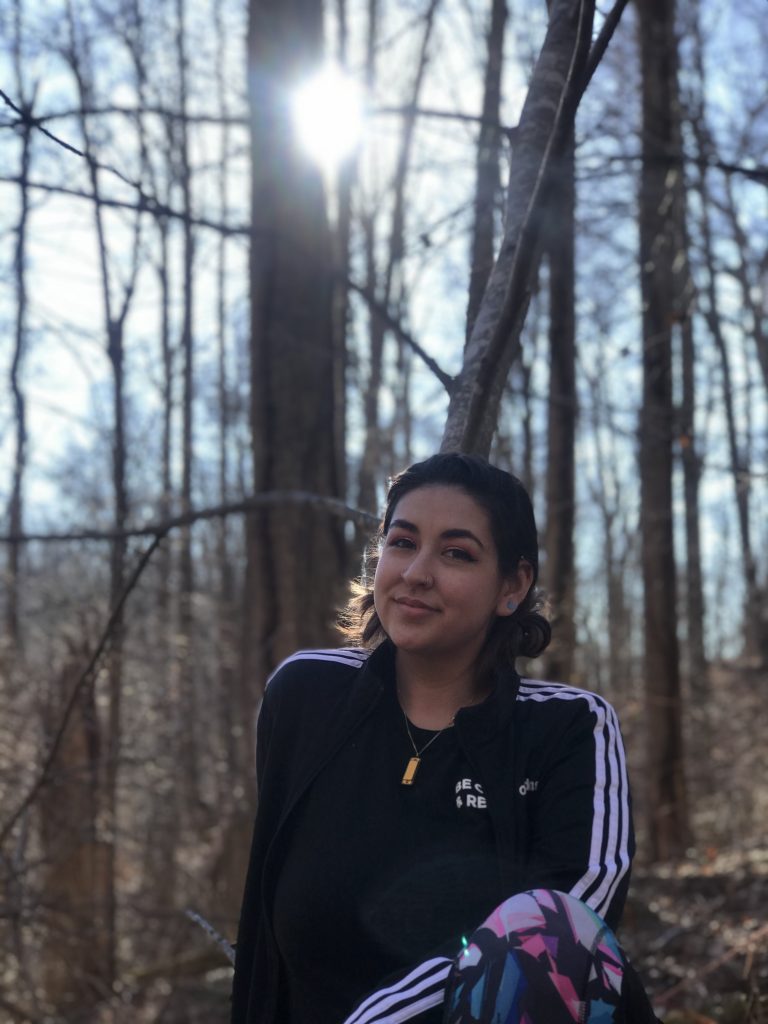 I was born and raised in St. Petersburg, Florida and moved with my husband to the Asheville area in August 2020 to be closer to the mountains! I enjoy creating art, hiking, kayaking and all that nature has to offer.