Discovery Montessori School is a place of enrichment and development dedicated to a child-centered curriculum that invites children to explore, discover, create, communicate and collaborate. Children learn through direct experience, through investigating their theories and bringing learning to life and making learning visible for all.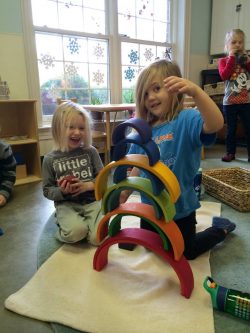 At Discovery Montessori School, we strive to encourage and foster a sense of wonder and a love for discovery and learning in children at a very young age. We incorporate children's energy, interests, temperament and developmental levels into everything we do and strive to provide activities and environments that will both educate and inspire.
Experience the Discovery Advantage!
Year round, full day preschool program with extended day options for working families
Conveniently located off of Hendersonville Rd in Nettlewood Park
Learning is fun; students are taught through play, hands-on  didactic materials and peer teaching
Daily music, art, reading, language, math, and science
Experienced, degreed professional staff
Low student/teacher ratio
 
At Discovery Montessori School, we believe…
Education is the process of discovery along with the acquisition of knowledge and skills.
Giftedness is demonstrated in many realms, from academics to the arts
Play is the most important work of children