TEACHERS (3-6 year olds)
---
Kristin
Hello Everyone! I have been at Discovery Montessori since May of 2017.   I couldn't be more thrilled to be working with such a creative and enthusiastic group of teachers.   I earned  my Early Childhood Montessori Diploma for ages 3-6 from North American Montessori Center in 2018 and am relishing the opportunity to put everything I learned into practice at Discovery.  I also recently completed my Associate of Applied Science in Early Childhood Education from AB Tech.  My long-term goal is to complete a Bachelor's Degree and eventually a Master's in Early Childhood Education.
I have spent the last almost 10 years of my life raising my two children, Sage and Amira, and working as a birth doula on the side. The births of my children inspired me to help others during pregnancy and birth. As my children got older and began going to school, I became a part of their education by frequently volunteering. It quickly became apparent to me that every time I left the school I was filled with so much joy. I realized that I appreciated seeing how each child learns and thinks differently about the world around them.
I truly believe that children learn best when they feel comfortable and safe. It is of the utmost importance for me as a teacher to provide this safe learning environment where ALL children are encouraged to thrive. It is my personal goal with every child to foster a love for learning that will following them throughout their lives.
In my spare time I enjoy spending time with my family, having dinner with friends, hiking our beautiful mountains, taking care of our farm animals, attempting and sometimes succeeding at DIY projects, and cooking delicious food.
Marissa
I am thrilled to be working at Discovery Montessori School.  I received early childhood credentials from Appalachian State University in 2001. Prior to classroom experience in the United States, I taught basic learning skills to expand opportunity for children in countries like Africa, India, Russia and Haiti. Upon returning, I have been a lead teacher for ten years in preschool classrooms. I view teaching as a unique opportunity to celebrate each child's individuality and encourage developmental and emotional growth in the classroom. Creating opportunities for success built on the strengths of each individual child is what ignites my passion, along with watching them grow. It is important to maximize a child's environment to promote wonder and exploration. I am dedicated to help children reach their greatest potential through positive reinforcement and giving opportunity to explore their unique creativity. My personal philosophy of being a teacher means letting each child know that they matter in the world and that there is a safe place for them to grow and learn. In my free time, I enjoy cooking, playing music, gardening, hiking with my dog and laughing with friends.
Megan C.
My name is Megan Campbell and I am so thrilled to be joining the Discovery team. My passion for teaching has been life long but it wasn't until I found and fell in love with the Montessori Method in 2010 that I found my educational calling. So, in 2013 I began my journey towards becoming Montessori certified at the Montessori Teacher Training Institute in Clemson, SC. Since receiving my training I have helped guide children in the 3-6 year old classroom by encouraging their independence, strengthening their self confidence and creating a classroom community of kindness and respect for one another.
When I'm not in the classroom you can find me trying to keep up with my two year old son River and spending time outdoors in the garden or on the trails with my family.  I look forward to getting to know you all and cheers to the school year. 
Beth
Hello Families!  My name is Beth and I feel so privileged to have been working here at Discovery since November 2016. I began finding my passion for working with children back in my home town in Southern Ohio after graduating with a Bachelor's from Ohio University. There I started teaching as a substitute as well as working one on one with kindergarten students who were struggling to keep up in large classrooms. With about a decade of experience working with children, I can not wait to continue to learn and grow here at Discovery.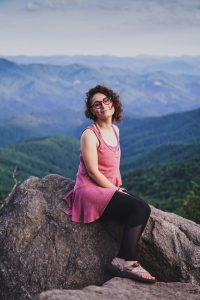 When I am not teaching, I love going on many adventures through outdoor exploration, travel, food, etc. New experiences are what drive me. And, as a lifelong learner, I am continuing my education to better serve the needs of the wonderful children and families of my classroom.
Kieran
Hello everyone.   My name is Kieran Dalton.  I have worked in Early Childhood Education since 2010. I received my Bachelors in Early Childhood Education in 2013 and have explored many educational settings over the years.  I previously worked in a Montessori school in Georgia from 2010-2013.  After graduating I worked in the public school system in Georgia and then in Missouri.
I am currently enrolled in school and will obtain my Masters in Early Childhood Education with an emphasis on Literacy in 2022.  Literacy counts from day one and helps lay a foundation for success in school and throughout life. It is my goal to help each child I work with become strong, independent, and successful learners.
I am married and have a wonderful little boy, Jacob.  We moved to Asheville in July of 2018 and have loved every minute here.  We are frequently found outside exploring nature and finding new trails to bike.
Kieran Dalton